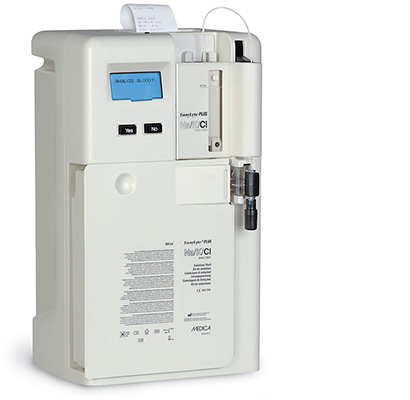 EasyLyte
Medica Corporation's EasyLyte® analyzer is a completely automated, microprocessor-controlled electrolyte system that uses ISE (Ion Selective Electrode) technology to make electrolyte measurements. The EasyLyte product line measures combinations of Na+, K+, Cl–, Li+, Ca++, and pH in whole blood, serum, plasma, or urine.
EasyLyte incorporates state-of-the-art electronics and an innovative ergonomic design that differentiates it significantly from competitors. The analyzer also stores quality-control data that is easily accessible. Patient histories are immediately retrievable for evaluation.
EasyLyte analyzers combine simple yes/no prompted operation, low maintenance, and high reliability into one economical design.
40,000 EasyLytes have been sold since the analyzers release.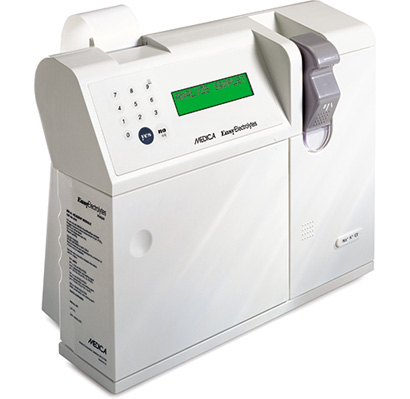 EasyElectrolytes
Medica's electrolyte analyzer, EasyElectrolytes™, focuses on the laboratory's need to deliver sample results economically. The unique electrode design, combined with precise control of calibrator volumes, ensures low-cost operation and faster test results.
The EasyElectrolytes analyzer measures Na+, K+, Cl–, and Li+ in whole blood, serum, urine (not applicable for Li+), and plasma. Results for a 55 µL serum sample are displayed and printed in 35 seconds.
With a larger display plus simple yes/no prompted operation, the analyzer requires little technical training by laboratory technicians before use. A convenient reagent module contains all liquid calibrants. Components are packaged into three simple modules, easily accessible by the user. Routine maintenance is limited to the replacement of the reagent module, electrodes, and a single pump tube.
Advanced software and hardware, including an optional bar code reader, track all analyzer results. The analyzer monitors calibration, electrode response, calibrant usage, and other functions. Snap-in electrode design, combined with precise control of calibrator volumes, ensure economical operation and a low cost per sample.