Fully Automated Urine Analyzer
AUTION MAX AX-4030
AUTION MAX AX-4030 is the finest fully automated urine analyzer. Various measurements such as S.G., color-tone, turbidity and abnormal coloration are available, as well as ten qualitative analyses.
Two strip feeders – loadable with different types of strips
Micro volume sample (2mL) using the spotting method
Compact body (Dimensions : 530 (W) x 530 (D) x530 (H) mm / Weight : 41kg)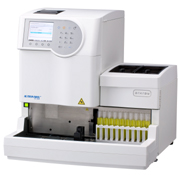 Versatile Urine Analysis System
AUTION ELEVEN AE-4020
AUTION ELEVEN is the eleventh model of AUTION series which is ideal for use in small-to-medium-sized hospitals and clinics with its smart design and features.
Compact Design: 210(W) x 328(D) x 164(H) mm / 3.6kg
High throughput: 514 tests/hour.(7 seconds/test)
Auto-start function: Measurement starts automatically when a strip is set on the tray.
Test strip can be placed either from the left or the right side.
10 parameters and color tone can be measured simultaneously.